Jaialdi 2010 Week Pelota – NABO 1 v NABO 2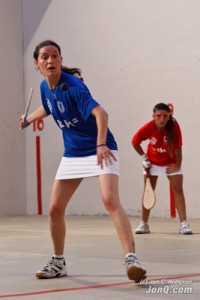 In one of the tournament highlights, the two women's pilota teams from NABO battled it out Tuesday July 27 in a back-and-forth contest during the World Pilota Council championship in Boise.
The lead changed hands several times as NABO 1 from Boise and NABO 2 from Bakersfield faced off before a standing-room-only crowd in one of the evening games at the historic fronton on the Basque Block. The game was played as Jaialdi 2010 launched its opening night.
NABO 2 — Teresa Iparraguirre and Michelle Saldubehere-Friebel — won the match 30-28. The Boise women were Esther Ciganda and Anne-Marie Mansisidor. In other Tuesday evening games, Venezuela beat Australia 30-9 and Euskadi beat the FEVA squad from Argentina 30-9.
The tournament resumes today on the Boise fronton with semi-finals at 11 a.m. Make sure to follow Euskal Kazeta for all the Jaialdi 2010 action.