Top Basque Athletes Featured at Jaialdi 2010 Sports Night
Some of the top athletes from the Basque Country will be displaying amazing feats of strength during Sports Night later this month at the mammoth Jaialdi 2010 festival in Boise.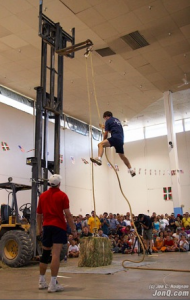 Competitors will show off their athletic prowess with wood chopping, bale throwing, weight lifting, tug-of-war and other events whose roots date back hundreds of years to villages and forests of the Basque Country. Sports Night will take place Thursday July 29 at the downtown Quest Arena as the huge international Basque festival begins to kick into high gear.
Members of the Boise group Eusko Kirolak, or Basque Sports, have been busy lining up some of the best professional weight lifters and wood choppers. The athletes hail from the Basque province of Bizkaia, said Edu Sarria, who has been helping organize Sports Night.
"These guys are the real deal," Sarria said in a recent interview with Euskal Kazeta.
Related Euskal Kazeta Jaialdi articles:
Pelota Takes Center Stage at Jaialdi
Countdown to Jaialdi
Jaialdi Tickets on Sale
The weight lifters will carry 100-pound milk jugs. The men will also hoist round marble balls weighing about 220 pounds and lift concrete cubes that weigh about 240 pounds each. And for those willing to take on the challenge, Sarria says, there will be two additional rock cubes — one 400 pounds, the other 700 pounds.
Sarria says Eusko Kirolak has also lined up two of the top three aizkolariak, of Basque wood choppers, who will be cutting through thick logs during heated competitions. The event is always among the favorite sport activities at Basque festivals.
Basques have always taken pride in hard physical labor — and sports are no exception. The competitions featured at Sports Night originated with grueling farm chores and back-breaking work done in quarries and forests of the Basque Country.
"All of the competitions that they do are the things that they did a long time ago and still do today," Sarria says. "These are real jobs."
He said the Basque government is paying for the athletes to fly to Boise and that Jaialdi organizers are covering their expenses after they arrive.
Jaialdi 2010 organizers are expecting 25,000 or more people to descend upon Boise for the week-long celebration of all things Basque. People are urged to purchase their tickets for Sports Night online. Tickets are $12 each and can be purchased here.
Below, Jaialdi 2010 Interactive Map:

View Jaialdi 2010 in a larger map