Basque Journalist Covers Mexico Drug War
Journalist Judith Torrea still remembers crossing the bridge from El Paso, Texas to Juarez, Mexico.
As she reached the Mexican side of the span, she was greeted by beggars. Many of them were children, holding out their hands, pleading for money. "I was bothered by that," recalls Torrea, who had grown up in a small village in the province of Nafarroa in the Basque Country. But as a journalist, she was also attracted to Juarez, a wild border town filled with great stories.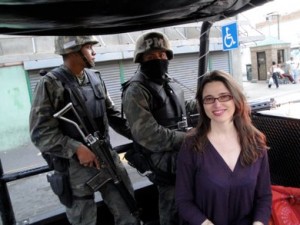 Now, a decade after she first crossed the Rio Grande River, Torrea is the middle of the action in one of the most violent cities in the Western Hemisphere as she reports on Mexico's bloody drug war. She covers the city with her popular blog, "Ciudad Juarez, in the Shadow of Narcotrafficking," which she writes in Spanish.
For years, Juarez has been ravaged by the disappearances of hundreds of women and unending carnage that has claimed thousands of lives. The city, with about 1.5 million people, has become ground zero as powerful drug cartels battle for control, paying off police and authorities willing to look the other way and killing those who get in the way.
"The drug cartels and the criminals operate with impunity. That's the problem," says Torrea, a veteran reporter who has written for publications including the Texas Observer, El País in Spain, France's Le Monde Diplomatique and People en Español.
Notebook and camera in tow, Torrea strives to tell stories of real people on both sides of the violence. Her subjects have ranged from street children who witness crimes to soldiers at the front lines of the conflict. In a recent post, she featured a 20-year-old man who dropped out of school at the age of 12 to fulfill a dream of becoming "superman" by joining the Mexican Army. He came from a destitute pueblo, one of six boys raised by a single mother who often had nothing more than beans to feed her children.
Yet, as Torrea pointed out in her story, the baby-faced soldier had become caught up in a much larger issue. He was serving in a force accused by activists of rampant human rights abuses as it carries out its war against drugs.
"Super interesting," one commenter said about the story. "Sad," responded another reader.
At times, Torrea says, covering the violence can be emotionally and physically exhausting. "If the army kills someone, I report it. If the cartel kills someone, I report it," she says. "I do it with a lot of love and a lot of pain."
Torrea became interested in journalism because of her grandfather, who was blinded during the Spanish Civil War. She learned to read — and became interested in writing about social and political issues — by reading the newspaper to her grandfather. He was a gentle man who took pride in his heritage. "A super Basque," as Torrea describes him.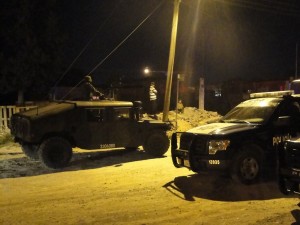 She studied journalism at the University of Navarra in Pamplona. In her fourth year at the university, she received a scholarship to study in France. That led to her first journalism job with Euro News in France.
"I wanted to see the world," Torrea says, adding that she was particularly interested in Mexico and Latin America.
One of her bosses at Euro News had a friend who was an editor at the Texas Observer, a non-profit news organization in Austin that specializes in investigative and social-issue journalism. Torrea landed a job with the Texas publication.
In 1997, she arrived in Austin with no English-language skills but with a passion for journalism. The culture, lifestyle and politics of Texas were a dramatic change from what Torrea was accustomed to in Europe. "I almost died when I arrived," she jokes.
But it was an exciting time to be a reporter in the Lone Star state. The governor was George W. Bush, and statehouse politics were filled with intrigue and back-room dealings. Torrea began covering Bush's state administration. In 1998, she became the first Spanish journalist to witness an execution in Texas. During a trip to a fund-raising event for the Observer, Torrea visited El Paso and crossed the bridge into Juarez.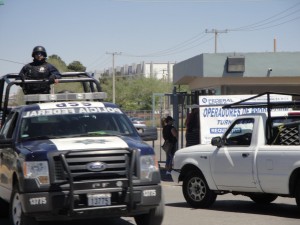 She left Texas to live in New York City, where she wrote freelance articles and covered the administration of Mayor Michael Bloomberg. She was hired as a reporter at People en Español, where she wrote about and photographed Latino celebrities.
But she tired of the glamour and glitz of the Big Apple and returned to Juarez last year to start her blog and write freelance articles.
Among the difficult topics to cover, she says, has been the effect of the violence on the children of Juarez, which averages about six murders a day. "The mothers take their children to see the dead bodies. It's like a movie," Torrea says. "The children are accustomed to this. It's a normal part of their lives."
Her work has caught the attention of journalists in Europe and Latin America.Torrea was interviewed about international issues by Univisión television anchor Jorge Ramos during his popular evening newscast. She has also been interviewed by reporters in Spain and Peru about her work covering Mexico's drug war.
As for the future, Torrea says, she's not sure what she wants to do. Eventually, she would like to return to the United States and continue her journalism career.
"In the United States, there are things I don't like. But there's a lot of things I do like," she says. "I have the opportunity to pursue a career, to live my dreams."
Below, Judith Torrea's interview with Univision's Jorge Ramos: