Zagat has named Chef Gerald Hirigoyen's Piperade restaurant as the top "Spanish/Basque" restaurant in the San Francisco Bay area.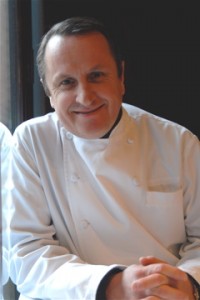 Piperade was rated number one among five "Best Spanish/Basque Bay Area Restaurants" singled out by Zagat. Started in 1979, Zagat publishes consumer-based surveys that are read worldwide and have been dubbed "The Gastronomic Bible" by the Wall Street Journal.
Related Euskal Kazeta Reports:
U.S. Basque Restaurant List
San Francisco's Newest Basque Restaurant Opens
Gerald Hirigoyen Signs New Cookbook at Basque Culture Day
Another Basque restaurant, Fringale, came in fourth place on the list. The longtime French-Basque bistro, located in San Francisco's South of Market neighborhood, was also in the top five French bistros in San Francisco.
Hirigoyen has lived in the Bay Area for more than 30 years
and has long been recognized as one of the top Basque chefs in the United States. He enjoys promoting the Basque Country through his cuisine and three cookbooks he has written. Hirigoyen also owns Bocadillos tapas restaurant in San Francisco's Jackson Square area. He opened Piperade with his wife Cameron in 2002.
The other three restaurants named are ZuZu in Napa, Contigo in the Noe Valley neighborhood and Zarzuela in the Russian Hill neighborhood of San Francisco. They feature tapas and other Spanish dishes.