Basque Song: Xalbadorren Heriotzean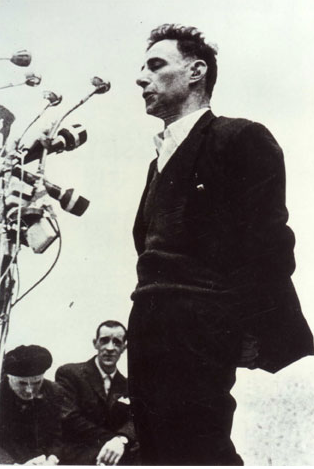 "Xalbadorren Heriotzean" is a moving song dedicated to the famous bertsolari Xalbador after his death at the age of 56 in 1976. Bertsolaris are singers who make up verses on topics in the moment. Xalbador typically talked about topics such as life, family, farm life, nature and faith.
Written by a well-known Basque singer Xabier Lete, the song refers to Xalbador as a shepherd of Urepel (Urepeleko artzaina), his hometown in Baxe Nafarroa. Here it is sung by Erramun Martikorena, who is from the same region as Xalbador. This is perhaps Martikorena's most popular song. This particular Youtube video is presented by Gabi de la Maza, whose Youtube channel presents many classic Basque songs superimposed with the lyrics.
Many Basques know the words to this song, and will typically break out singing whenever the song is played. Numerous versions of the song have been recorded by different artists.